The Double Dog Bungee Leash by DogGoods ®
$59.99
$18.00
You Save:

$41.99 USD

(69.99%)
The Double Dog Bungee Leash by DogGoods ®
$59.99
$18.00
You Save:

$41.99 USD

(69.99%)
Product Description
Description
A DogGoods ® Exclusive Product: The Double Dog Bungee Leash.
Attach this convenient extension to your existing leash to walk two dogs or use as a bungee leash for one dog. It is an attachable extension to any leash to accommodate walking 2 dogs, or it may be used alone as a regular leash for 1 dog. This is a perfect complement to our exclusive, original product,  "The Everything Leash" Hands-Free Dog Leash.
**FREE STANDARD SHIPPING TO ANYWHERE IN THE UNITED STATES**
Standard: 3-10 Days (FREE!)
UPS 3-Day: 3 Days ($9.99)
UPS 2-Day: 2 Days ($14.99)
UPS 1-Day: 1 Day ($49.99)
For International Orders: Shipping costs vary. See checkout page.
Customer Reviews
I recommend this product
Innovative! I love it.
Ordered a product from this seller because I was looking for a hands-free solution for walking my dog. The item arrived on time and I was pleasantly surprised by the quality and convenience of the product. Highly recommend this seller and their products.
I recommend this product
Excellent customer service quality matches
I purchased the product incorrectly (my fault). Your company quickly contacted me through email to let me know there was an error so I repurchased the leash directly through your site without cancelling the Amazon order. One of your representatives contacted me and my wife through email and phone solved the double order and sent the original order through expedited post. Wow. THANK YOU to your representative and your company - it felt wonderful to have that kind of experience in these tough times. I've now run with the belt: it's comfortable sturdy and the molle system allows me attach and detach pieces with ease depending on length/temperature of the run. Thanks again!
I recommend this product
Excellent addition to my supplies
I've been a professional dog walker for over 15 years. This was worth the money! I love that I can take just the compartments I need depending on the weather and the particular dogs that I'm walking. The larger attached pouch with slot for **** bags is great; I prefer to store waste instead of holding it the whole walk and the pouch is perfect for that. One negative so far...adjusting the waist width is a pain in the ***! I have to remove it in order to do it properly. I'm sure it will get easier with time but seeing as how it does seem to loosen a little bit with excessive pulling from some dogs it would be nice to be able to get it snug without having to remove it.
07/07/2020
DogGoods Do Good ®
Hi Justin, Thank you for the feedback. Although there is always room to improve on it, we are delighted that you love using it!
Awesome company, perfect product, and happy days!
Long review, worth the read, worth the product! All I can say is wow. This product and the company behind it are just awesome! I recommend 10/10. I placed the order 8/7/19 and received an incomplete package. I left a review noting that because I couldn't find a way to reach out to the company directly. After about a week and a half without checking my email, I noticed that DogGoods Do Good attempted to reach out to me several times and because I didn't respond, they decided to just send me a new, complete package. When I saw that it was on their way, I just thought they didn't have to do that, but they did because they were genuinely concerned that I didn't get what I wanted. Some of the items must have been lost while in transit, crazy things happen, you never know. The fact that they took that extra step and time to make sure that I, as a customer, was satisfied is SO AWESOME. Even though I received an incomplete package the first time, I LOVED it regardless!! It's so convenient and it has everything I could possibly need when I take my Gabby out. It has a bag that I can put her treats in, a water bottle that has it's own bottle holder, a foldable bowl, a pouch for anything (for me, I put my XS Max in there, a small wallet when I'm on the go, and her psychiatric service dog in training ID), and then it also has another pouch that has its own section to put **** bags in. I put chapstick and hand sanitizer in there in the extra space. I love that I'm able to just pull out the **** bags and it's ready. I don't have to go digging for anything because everything has its own section and it's so organized and simple. It also has a bungee leash. When I'm walking her in the park or around the neighborhood, I use the entire length, but when I'm in public, I shorten the leash with the clip that it has on the leash itself (I thought that was perfect). I live in Texas, so it's super hot down here. Even though this belt has everything I could possibly need, it doesn't weigh me down and it doesn't make me feel hot. If you're looking for something convenient, simple but yet complex to ensure you have everything you could possibly need, great customer service, affordability, design, and durability, this is the product. Thank you, DogGoods Do Goods! You are the reason why I am comfortable taking my hound/lab mix out in public and not worry about fishing through my purse to find things! I honestly use the belt every day! You've taken away my anxieties and fears. I feel more confident when I'm in public and I have my belt on. I can't thank you guys enough! Gabby loves it! When she hears my keys jingle when I'm putting on the belt, she comes running! Again, thank you. ____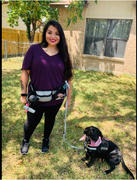 Get this dog belt/leash!!!
This leash is awesome! I have little kids one that I have to push in a stroller when we go walking. I also have a big great Dane mastiff mix that we take with us. Let me tell you. ...it was SOOOOO much easier pushing the stroller and NOT having to hang onto the leash. With the dog being tethered to my waist any pulling she did was met with my body and my weight instead of yanking my arm and pulling me off balance. I'm not a jogger but I'm pretty sure this would be awesome for a jogger too. Oh and when we are fishing its awesome to be able to sit in the chair and when she try's to take off my weight stops her instead of her yanking the chair(being tied to the chair) right out from under me lolol. This belt holds everything I need holds the dog and is very comfortable. I would highly recommend this. The only thing I would add or change is that they make bigger belt sizes. My husband is a bigger guy and it would not fit him. But other than that no complaints! Good job guys!