The 3-In-1 Dog Car Seat, Dog Bed and Dog Tote Bag By DogGoods ®
The 3-In-1 Dog Car Seat, Dog Bed and Dog Tote Bag By DogGoods ®
Product Description
Description
Dog Car Seat, Dog Car Bed, Dog Tote Bag
Dog Car Carrier
NEW RELEASE FALL 2021!
This versatile dog car travel accessory is a must-have for pets under 30 lbs that love to enjoy the view while you drive.  


A versatile 3-in-1 dog travel accessory: A small dog car seat, dog car bed, and dog tote bag in one innovative product. Use it as s dog bed for car, a doggie car seat for small dogs, or as a bag to carry your pooch.


Elegant, beautiful, and incomparable: This exceptional dog car carrier is made with soft microsuede lining and features an overstuffed bolster cushion, helping to keep your pup comfortable and calm during road trips.


Adjustable and versatile: Car seats for dogs need adjustable, durable headrest straps that anchors securely around the front and back seats of your car. This is the way small dog car seats need to be.


Water-Proof And Machine-Washable: These small dog car seats are made of materials that help protect your car's seats from fur and other messes.
SUITABLE BREEDS (Based on Average Dog Size): Affenpinscher, Australian Terrier, Beagle, Bichon Frise, Border Terrier, Boston Terrier, Brussels Griffon, Cairn Terrier, Cavalier King Charles Spaniel, Chihuahua, Chinese Crested, Cocker Spaniel, Dachshund (Wiener Dog), Havanese, Lhasa Apso, Maltese, Mini Pinscher, Mini Poodle ,Mini Schnauzer, Norfolk Terrier, Norwich Terrier, Papillon, Pekingese, Pomeranian, Pug, Shih Tzu, Silky Terrier, Tibetan Spaniel, Toy Fox Terrier, Welsh Corgi, Yorkie, Yorkshire Terrier and most other small terrier breeds.
DIMENSIONS (L x W x H):
As a Bed / Car Seat:

Approx. 24 x 22 x 22 in. / 60 x 56 x 56 cm.

Folded / Packed:

Approx. 24 x 22 x 8 in. / 

60 x

56

 x

20

 cm.
Let your pooch travel in comfort in this perfectly elegant and beautiful dog car carrier for small dogs under 30 lbs. The DogGoods Do Good ® Travelling Dog Car Seat, Dog Bed And Tote Bag is a versatile 3-in-1 Dog Travel Accessory. This car dog bed, pet car seat bed, and dog carrier tote bag helps keep your puppy comfortable during your fun car ride. It is a dog car seat made of waterproof fabric and a dog car bed featuring a beautiful and classy brown microsuede leather lining and overstuffed bolster cushion that help provide a sense of security for anxious or restless pups under 30 pounds.
It features a built-in dog car seat belt and leather straps that wrap around the front or back seat of your car. The adjustable strap is designed to wrap around any front or back seat of any car easily and securely, which makes this an essential dog accessory for your road trips with your dog. The wrap-around design allows for normal use of your car's seatbelts while the small dog car seat bed is in place. Just anchor the lower strap on to the seat to help the bed stay put while the car is moving. This small dog car seat's durable, waterproof material also helps protect your seats from fur and other pet messes and is machine washable for easy clean up. 
This dog booster car seat and dog cushion easily packs into a nice dog carrier tote bag / hand bag for portability and converts into a dog car seat in seconds. A car ride was never so paw-fectly cozy!
Customer Reviews
Write a Review
Ask a Question
I recommend this product
Scruffy likes it!
This is a very well cushioned dog seat that can also be a bed. I'll use it as a bed only when traveling and will be happy to have one less thing to pack It's great for a dog who likes to snuggle into something soft. The fabric seems to be very sturdy, but also comfortable. The seller states it is machine washable. I cannot attest to that because I haven't yet washed it, but it appears to me that it is well made and would hold up to a machine wash. I let my suspicious 20-pound dog get used to the seat in the house and had no problem getting him to sit in the car. As you can see from the pictures, he can sit in it, or the front part can lay flat so he can stretch out but still be cozy. In the last picture, he was ready to fall asleep after a long time away from home. The seat arrived all closed up, held together with leather straps and two leather handles. You can use it this way just for transport or as a dog carrier, but I think for a dog smaller than mine. There were no instructions at all. I took it apart and easily assembled it properly but I was uncertain how to use it in the car. A visit to DogGoods Store website solved that problem. I found written instructions and a video. I have been looking for a dog car seat for a long time and an very pleased with this one. I chose the gray color because the seats in my car are gray.
I recommend this product
Cute little dog seat
It was easy to work with. It has zippers to make it have a good form. It has handles to carry your dog to and from car easily. My dog loves it so far and we haven't even put it in the car yet. It has a leash inside bed to secure your dog to the seat. There are also multiple adjustable straps with snaps to secure the seat to your seat belt.
I recommend this product
Attractive and convenient -- once you figure it out
Well-made with quality materials! Sturdy, thick cushions; comfortable. Nice for our dog to be carried to the car in the same bed she uses at home.
I recommend this product
Nicely Made and Dog Loves
My dog seems to know right away when something is for him. As soon as the plastic was off and I was checking straps and undoing, he came and laid on it. I had to shoo him away so I could check out the item. It fits perfectly where he rides in our SUV and he loves it. I had to bring it in as we had passengers in the car and he went right over and tried to use as pillow since I had it folded and strapped up. I would say he thinks it is comfortable. It is made of very durable material and the straps and handles are made of a durable leather that will hold up to a lot of wear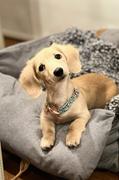 I recommend this product
Very pretty and durable... needs to come with instructions
This dog bed is very pretty and well made. I have a 20 pound dog and he just barely fits in it. I am hoping that with some use the cushions won't be so puffy and he'll fit better. There were no instructions at all. I had to go to Amazon and figure out how to put it together from the pictures. We are using it as a dog seat in the car. Although you can fold it and carry, for the everyday use the handles get in the way. All in all, it's a nice dog bed.. very durable. I'm glad it's washable too.