Dog Leash Fanny Pack
$59.99
$49.98
You Save:

$10.01 USD

(16.69%)
Dog Leash Fanny Pack
$59.99
$49.98
You Save:

$10.01 USD

(16.69%)
Product Description
Description
Dog Fanny Pack
A DogGoods ® Exclusive Product: Hands-Free Dog Leash Fanny Pack (The Everything Leash)
The "Everything Leash" has everything you need to walk your dog.
It Is A Hands-Free Dog Leash Belt for Small Dogs and Big Dogs and Modular Dog Walking Fanny Pack, All-In-One! 
It is a dog owner's dream kit. It is a complete MOLLE (Modular Lightweight Load-Carrying Equipment)—a compatible dog walking belt bag and hands-free dog leash with modular attachments. Pick and choose what you want to attach to this innovative modular hands-free dog walking belt! This complete dog walking set has a bungee leash attached to the waist, dog treat bag for dog treats, dog training pouch, sports water bottle, and water bottle holder, poop bag dispenser, dog water dispenser / dog water bowl, dog food bowl and belt bag, all-in-one!
Components Include: Elastic Bungee Cord Leash, Dog Treat Pouch Bag, Sport Squeeze Water Bottle, Water Bottle Holder, Foldable Water Bowl, Extra Multi-Purpose Pouch For Mobile Phones / Cellphone, and Carabiner Hook for Miscellaneous Items.
The adjustable dog leash belt can be used as a dog walking fanny pack and leash for dogs, hands free small dog leash, and even as hands free dog options for large dogs. Contains MOLLE Pouch, MOLLE attachments, MOLLE Compatible Dog Gear + Leash Belt (MOLLE stands for Modular Lightweight Load-carrying Equipment). The pockets will comfortably fit standard-sized smart phones (iPhones, Android), except for the large screen models which may be a little tight to fit easily into the pockets. Extendable Dog Leash with bag dispenser
🐕 HANDS FREE DOG LEASH FOR SMALL DOGS, HANDS FREE LEASH FOR BIG DOGS + DOG FANNY PACK = DOG WALKING KIT + DOG HIKING KIT = EVERYTHING YOU NEED TO WALK YOUR DOG: A Reflective Belt Bag / Dog Walking Fanny Pack / Running Waist Belt Bag With ALL THE DOG ACCESSORIES You Can Imagine! A Perfect MOLLE Dog Hiking Gear And Dog Walking Gear! The Ultimate MOLLE Gear for Dogs, MOLLE Pouch, MOLLE Attachments for Dogs.


🐶 BELT FOR DOG LEASH + HANDS-FREE DOG LEASH + PICK AND CHOOSE THE DOG ACCESSORIES YOU NEED: This MODULAR Dog Leash Belt Includes: 1) A DOG TREAT POUCH To Store Dog Training Treats , 2) A POOP BAG HOLDER For Dog Poop Bags, 3) A Collapsible Dog Bowl, 4) A Sport Water Bottle And Holder, And 5) A Bonus Multi-Purpose Bag For Your Phone, Keys Or Other Personal Items.


🐩 EXTENDABLE DOG LEASH WITH BAG DISPENSER + ELASTIC BUNGEE DOG LEASH (Combined With The Optional 2 Dog Leash / Dog Coupler Sold Separately): Feel Safe with the Reflective Shock Absorbing Dog Walking Leash. The Retractable Hands-Free Dog Leash Has Two Handles And Strong Clips That Reduce The Risk Of Falling Or Whiplash In Case Of Sudden Pulling From Your Puppy. May Be Used As Training Leash And May Be Attached To Any Of The 2 Sliding O-rings On Either Side Of The Belt.


🐕 DOG TREAT POUCH + DOG POOP BAG HOLDER = PERFECT FOR THE RESPONSIBLE DOG OWNER: The Waist Bag Has A Dog Poop Bag Holder To Store Doggie Bags for Poop. Dog Poop Bag Not Included. Take Dog Training Treats (or Any Dog Treats) With You Outdoors With The Convenient Dog Treat Pouch! Great For Potty Training And Dog Training!



🐶 DOG WATER DISPENSER + COLLAPSIBLE DOG WATER BOWL + FOOD BOWL: NOURISH YOUR DOG + LOVE YOUR DOG: The Foldable Dog Bowl And Water Sport Bottle Holder Ensure That Your Pooch is Nourished As You Go On Fun-Filled Adventure Days.
**FREE STANDARD SHIPPING TO ANYWHERE IN THE UNITED STATES**
Standard: 3-10 Days (FREE!)
UPS 3-Day: 3 Days ($9.99)
UPS 2-Day: 2 Days ($14.99)
UPS 1-Day: 1 Day ($49.99)
For International Orders: Shipping costs vary. See checkout page.
Customer Reviews
Write a Review
Ask a Question
02/09/2022
Anonymous

United States
I recommend this product
OMG - I LOVE IT
Superb. I just love it, it's so super convenient to use, and makes walking 1 or both of my dogs easy and hands free!
I recommend this product
First and last dog walking belt
Ever since I have been using this belt to help me walk dogs it has only made this better especially when your are walking multiple dogs at one time cause this belt has several rings that you can clip about 3 leashes on. Sometimes it can be a little to bulky when you have all the items clipped on the belt but you can also take pieces off that you don't need!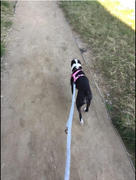 I recommend this product
Frees your hands
Amazing product. Frees your hands while walking your dog. It's like having a second set of hands. Highly recommend. The additional treat bag water bowl and extra pouches are great. The reflective belt is a smart addition when walking at night. Would buy again.
I recommend this product
Innovative! I love it.
Ordered a product from this seller because I was looking for a hands-free solution for walking my dog. The item arrived on time and I was pleasantly surprised by the quality and convenience of the product. Highly recommend this seller and their products.
I recommend this product
Get this dog belt/leash!!!
This leash is awesome! I have little kids one that I have to push in a stroller when we go walking. I also have a big great Dane mastiff mix that we take with us. Let me tell you. ...it was SOOOOO much easier pushing the stroller and NOT having to hang onto the leash. With the dog being tethered to my waist any pulling she did was met with my body and my weight instead of yanking my arm and pulling me off balance. I'm not a jogger but I'm pretty sure this would be awesome for a jogger too. Oh and when we are fishing its awesome to be able to sit in the chair and when she try's to take off my weight stops her instead of her yanking the chair(being tied to the chair) right out from under me lolol. This belt holds everything I need holds the dog and is very comfortable. I would highly recommend this. The only thing I would add or change is that they make bigger belt sizes. My husband is a bigger guy and it would not fit him. But other than that no complaints! Good job guys!